What to associate with the word "Ofarim" ?


What Israeli prisoneers in the early 60s associated with "Ofarim":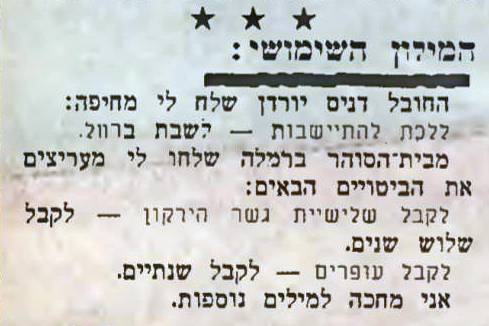 This is from the weekly magazine "Haolam Haze" from 1965, of the short column of slang words.
Once they got 2 secret expressions from a jail in Israel:
To have "gesher HaYarkon trio" means to spend 3 years in jail and to have "HaOfarim duo" means that you'll be there 2 years.
My association with the word "Ofarim":
Shlishiit ha-Ofarim
The Ofarim Trio
ca. 1959-1961
Ha-Ofarim
The Ofarim Couple
ca. 1961-1962
The Ofarims
Esther & Abi Ofarim
1962-1969

Shlishiit ha-Ofarim - The Ofarim Trio:
Shmulik Kraus, Esther Zaied, Abraham Reichstad

Esther & Abi Ofarim called themselves
The Ofarim Couple - Ha-Ofarim

The Ofarims:
Esther & Abi Ofarim


Esther Ofarim
The Solo Singer
1969 - now


Abi Ofarim
The Solo Singer
1970 - 2018


Gil Ofarim
Abi's son and solo singer
90s - now


Esther Ofarim
The Rose
1972 - now



Ofarim / Ofarims
Roe / Fawns
always



'Ofarim
The Settlement / Colony
1989 - now



The flower


The animals, the deer



West bank, Arava Region, Israel


What fans do associate with "Ofarim":

>> 09/03/05: summer hollydays 1968, when I was 13 years old, listening Layla and My Fisherman and Entends-tu le vent <<

>> 20/03/05: Meine erste musikalische Liebe, als ich 4 oder 5 Jahre alt war. Meine Tante arbeitete damals in einem Plattenladen und brachte die LPs mit, die ich im wahrsten Sinne des Wortes kaputtgespielt/-geliebt habe. Außerdem mein erstes großes Konzert 1969, Kölner Sporthalle.Das Programm habe ich heute noch!Keine Chance, ich verkaufs nicht.<<

>> 04/04/05: In den Sommerferien 1969 reiste ich mit der LP von Esther Ofarim - Fahrrad, als Beifahrer im Auto - zum Leidwesen Aller hin und her. In der Tasche, auf dem Gepäckträger, auf den Knien - überall Esther. Einen Abend kam ich zu spät nach hause, weil ich interessierten Gleichaltrigen die Platte vorgespielt hatte. Zur Strafe musste ich - ein gestandener Teenager - eine Woche lang in den Ferien um acht/halb neun ins Bett. Eine teure Liebe.<<

>> 13/04/05: Travail dans le Mais (il manque le tréma!) Angevin. Nous chantions le soir au feu de camp. Je connaissais le "Prince en Avignon", "le Vent et la Jeunesse","la Rose et la Violette" et plusieurs d'autre chansons d'Esther Ofarim qui nétaient pas populaires en France. Tout le monde écoutait attentivement. Esther, la grande Interprète commenc,a à interesser tout le monde. C'était en 1973, et moi, je garde un grand souvenir de ses chansons, inspiré par son interprétation! Quel souvenir! Toujours je suis en contact avec des amis de ce temps-là, nous qui chantions ensembles les chansons dans la nuit. <<