Die endlose Nacht
German movie from 1963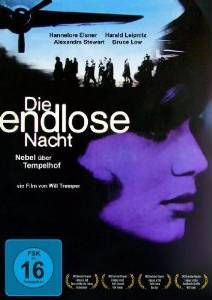 Dichter Nebel führt zur Absage aller Abflüge und Landungen auf dem Flughafen Berlin-Tempelhof. In Episoden greift der Film das Leben einiger Passagiere auf, die in der Halle warten müssen. Unter den Fluggästen: eine polnische Jazz-Band, ein afrikanischer Farmer, ein Model und ihr verheirateter Freund, ein britisches Ehepaar. Am Rande spielen die Schicksale des Flugpersonals mit hinein. Für einige Passagiere verändert sich in der langen Nacht unerwartet ihr Leben, andere machen im alten Trott weiter.
Note: Contrary to old info, Esther Ofarim is not part of this movie.
Only the instrumental version of "Komm leg Deinen Arm um mich" by Peter Thomas is included in the film.
---
Old info:
1963 - German film
Die endlose Nacht
with Esther Ofarim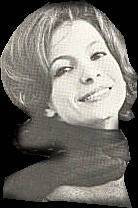 You can lend a 35 mm film copy here


November 6th, 2006: Kölner Filmhaus will show "Die endlose Nacht" again!

directed by Will Tremper

got the award "Filmband in Gold" for the best camera-directing
and Harald Leipnitz as the best actor

Leipnitz got the "Bundesfilmpreis"

84 minutes

music by Peter Thomas and Esther Ofarim: "Komm leg Deinen Arm um mich" info

Die endlose Nacht - fotos © by filmportal.de - More info

Film about people, who come to the airport and no airplane is flying.
They are waiting and nothing happens. It's a kind of criminal film with drama and comedy.

Buy Film magazine about die Endlose Nacht / Kaufen Sie ein Filmheft über die Endlose Nacht

Synopsis
This interesting film is set in Berlin's Tempelhof airport during a bad storm. The airport is closed because of the weather, and many travelers are stranded there. Their unscripted, unrehearsed stories are the basis for the film. Most of the tales center around various forms of sex. ~ Sandra Brennan, All Movie Guide


German Info:

"Die endlose Nacht" heißt der Film, der 1963 in Schwarzweiß und Ultrascope zeigte, was passiert, wenn nichts passiert. Menschen im Wartesaal: ein Melodram. Ein Krimi. Und - natürlich - eine Komödie.

Zu sehen waren da ein paar Stars des bisherigen und ein paar Helden des künftigen deutschen Films: Karin Hübner, Bruce Low, Wolfgang Neuss, aber auch Mario Adorf und - als Starlet in ihrer allerersten Filmrolle - die junge Hannelore Elsner. Deutsche Short Cuts aus der Ludwig Erhard-Ära, durch die schon ein Hauch von Nouvelle Vague wehte. Tremper war Autorenfilmer, als es den Begriff noch gar nicht gab. Er drehte schnell - "Die endlose Nacht" in 44 Tagen -, arbeitete ohne festes Drehbuch, improvisierte die Texte und blieb mit der Kamera immer dicht dran an der Gegenwart. Mit den Rebellen des Oberhausener Manifests hatte er trotzdem nichts am Hut, und die nicht mit ihm. Tremper inszenierte nur fünf Filme, "Die endlose Nacht" blieb sein bester.

taken from here

Buy Film magazine about die Endlose Nacht / Kaufen Sie ein Filmheft über die Endlose Nacht

buy music by Peter Thomas here: