Show of the week: Nana Mouskouri
UK TV show, 29/04/1971
with Esther Ofarim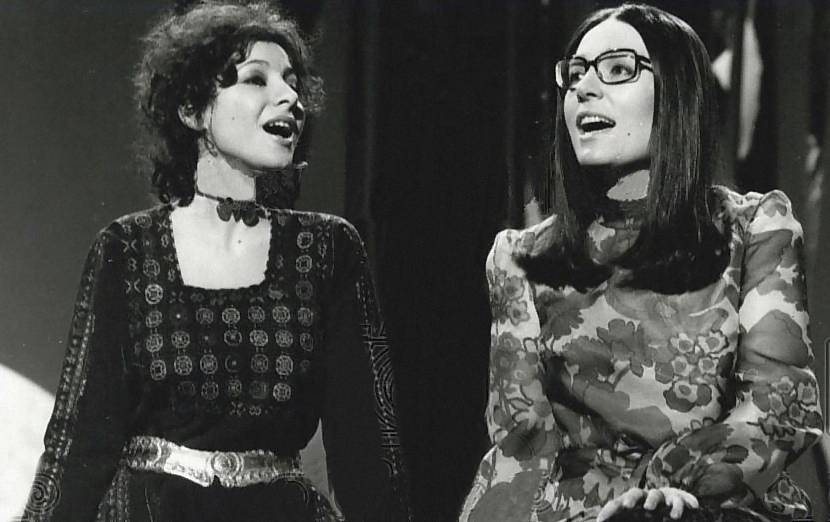 Esther Ofarim & Nana Mouskouri in a duet of "Le Vent Et La Jeunesse". Lyrics
"Singer Nana Mouskouri & the Athenians with guests Georghe Zamfir & the Rumanian Folk Ensemble, Esther Ofarim & the Black Theatre of Prague.
Nana wearing a shapless dress, accompanied by the Athenians sings `Xero Kapio Steno' , with titles on screen part way thru
Nana & Athenians sing
`Bridge Over Troubled Water', Nana intros `Double Bass Sketch' by Black Theatre of Prague in which man is playing DB & white gloved hand keeps appearing & pulling strings. Bass player goes to all lengths to get rid of hand, incl the use of dynamite which back fires, Nana sitting in an armchair sings `Song for a Winters Night', some s' thru window wth snow falling, Nana intros song by Athenians whch translates as `The Mermaid', Athenians sing `I Gorgona', Nana sings `Amazing Grace', Nana intros Gheorghe ZAMFIR on pan pipes & Rumanian Folk Ensemble who play`Mult mantreaba Inima Hora'"
Esther Ofarim sings `You Know who I am', Nana & Esther chat about when they 1st met, Nana & Esther sing `Le Vent et le Jeunesse', Nana sitting in bubble chair suspended from ceiling sing `Over the Rainbow', Nana explains that last song is a greek Folk song re a girl whose bracelet jangled as she wlkd & made the men fall in love with her. Nana & Athenians sing `Yerakina', Nana thanks guests & then sings more of `Yeraki-na' as credits go up."
Info taken from Motiongallery


www.esther-ofarim.de