Scopus Award, October 26, 2002
with Esther Ofarim / Interview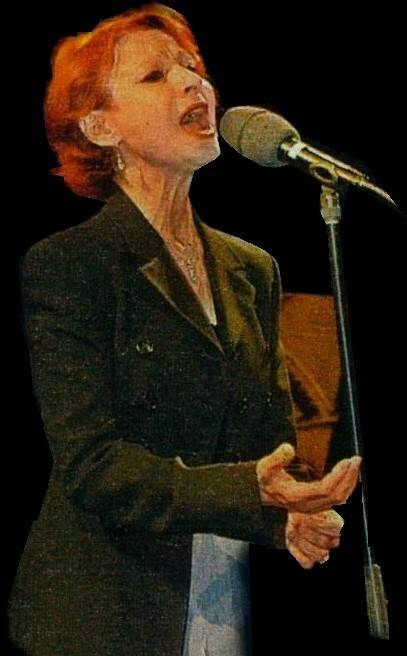 In Munich Esther sang several Hebrew and German songs (with Yoni Rechter on piano)
for Imo Moszkowicz (77 years),
who got the Scopus Award for his engagement in Jewish-German-friendship.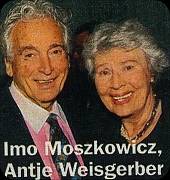 Scopus Award ceremonies were held during October in three German cities – Stuttgart, Berlin and Munich – to honor, respectively, Helmuth Rilling, prominent music conductor; Dr. Heinrich von Pierer, the president and CEO of Siemens Corp.; and Imo Moszkowicz, distinguished actor, stage and film director. The latter evening was conducted in conjunction with the Max Planck Institute. University representatives at the events included President Prof. Menachem Magidor, Rector Prof. Haim Rabinowitch, and Prof. Idan Segev, director of the Interdisciplinary Center for Neural Computation.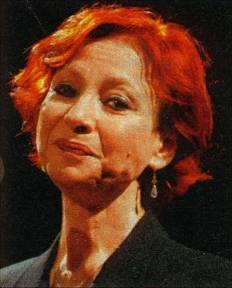 Esther Ofarim at the Scopus Award

Interview:
After many years, you were on stage last week.
Yes. I was there to the honor of the jewish actor and director Imo Moszkovicz. A very good cause to do that. I performed a medley of songs in Hebrew, English and German language.

The people were very excited and thankful to see you and gave a great applause to you.
Yes, that's right. It really was a wonderful feeling.

Don't you want to get back to your old success?
I'm lucky with my life, I live between Israel and Germany. And I'm not dormant. In the last years I recorded several CDs in different languages. This means much fun to me, even when I don't have the same success as in earlier years.
Interview taken from german magazine
Frau mit Herz, 6.November 2002





Imo Moszkowicz bekam Scopus Award

Eine ehrenvolle Auszeichnung für den 77jährigen Regisseur aus Ahlen
AHLEN. "Die Auszeichnung ist wie ein Geschenk Gottes." Sichtlich gerührt bedankte sich Imo Moszkowicz für die Ehrung, die ihm im Münchner "Cuvelliés Theater" mit der Verleihung des "Scopus Award" zuteil wurde. Zuvor hatte der 77-jährige Regisseur, der in mehr als 100 Film- und Fernsehproduktionen Regie führte und an vielen Schauspiel- und Opernhäusern im deutschsprachigen Raum inszeniert hat, die Auszeichnung aus der Hand von Iris Berben entgegen genommen. Die Schauspielerin war als erste Deutsche im vergangenen Jahr mit dem Preis geehrt worden, der vom Freundeskreis der Hebräischen Universität Jerusalem verliehen wird. In seiner Rede bezeichnete der israelische Botschafter in Berlin, Shimon Stein, das Lebenswerk Moszkowicz' als außergewöhnlich. Er sei der erste Deutsche gewesen, der in Israel nach dem Holocaust mit Siegfried Lenz ("Die Zeit der Schuldlosen") einen lebenden deutschen Autor auf die Bühne gebracht habe. Der Rektor der Hebräischen Universität. Professor Dr. Haim Rabinovich, und der Vorsitzende des Freundeskreises, Ron Jakubowicz, hatten die besondere Verbundenheit des Geehrten mit der Hebräischen Universität gewürdigt. Musikalisch umrahmt wurde die Preisverleihung durch die Sängerin Esther Ofarim, begleitet von Yoni Rechter am Klavier. Eine besondere Note erhielt die Feier durch die Anwesenheit einer kleinen Gruppe aus seiner Heimatstadt Ahlen, zu der auch Marga Spiegel zählte.
taken from www.sonntags-rundblick.de

German magazine, Freizeit Revue Nr. 46
you can buy it at www.freizeitrevue.de