Esther Ofarim - New CD
I'll see you in my dreams
LIVE 2009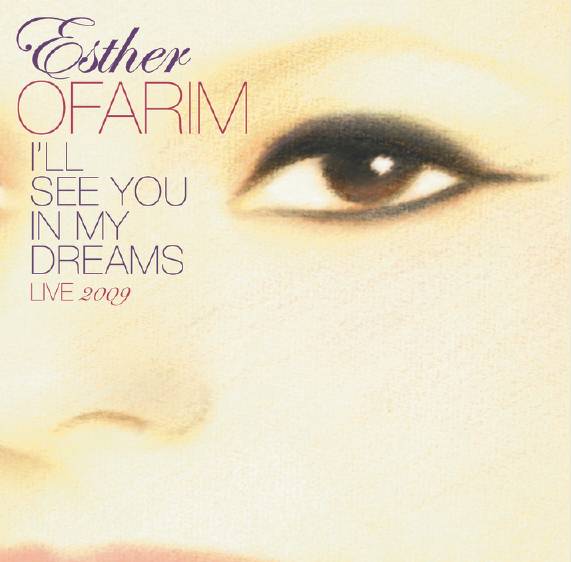 This CD has been released on June 12, 2009 by the lable Tropical Music. (CD Tropical Music 68.859) (Sony Music)
It contains the mostly new and previously unreleased songs of the two concerts in Hamburg, 2009.
Also it contains the previously unreleased song "Adio Querida" in a recording of the 2005's concert in Frankfurt.


Order this CD here / Bestellen Sie die CD hier
Review of magazine Record Collector:
- 4 stars out of 5 -
"Often plaintive, searching and illuminating, her voice has the ability to move in time,
tracking the source of the song and plugging into its core."
read other review of the press

Tracklist:

1. Intro / Miss July 1:30

2. My Fisherman, My Laddie-o 3:42

3. My Lagan Love 4:53

4. Hallelujah 3:27

5. Ne'ula hi dalti 3:08

6. The Willow Song 4:03

7. Ma Omrot Eynayich 2:46

8. I'll See You In My Dreams 3:41

9. Here I'll Stay 3:23

10. Das Lied vom Surabaya Johnny 5:53

11. Yesterday 2:33

12. Kinderspiele 3:37

13. I Have Dreamed 3:21

14. Adio Querida (Frankfurt, 2005) 3:14

15. Alabama Song 3:20

16. The French Partisan 2:45

17. Cinderella Rockefella 2:16

Buy this CD here / Kaufen Sie die CD hier!

English info by Tropical Music:

Her fans will remember some of the songs – and they will be astonished. After almost 40 years these songs sound fresher than in the sixties. Only accompanied by bass, guitar, piano and violin Esther Ofarim presents us a new selection of songs from her rich repertoire.
It ranges from Shakespeare to Leonard Cohen, from Kurt Weill to the Beatles. The titlesong of her new programme "I'll See You In My Dreams" was a huge hit in the 1920ies in the USA. When Esther Ofarim sings it you will know why, as she sings it with such an easyness and freshness accompanied by the choir of her musicians. You can feel her dramatical skills when she implores the "Surabaya-Johnny", and how many versions do you know of "Yesterday" and "Hallelujah"? There may be thousands, but when you hear the interpretations of Esther Ofarim you will enjoy again these wellknown songs, as well as "Cinderella Rockefella", the hitsong from 1968, which is luckily part of the new programme.
Since more than 40 years Esther Ofarim is performing all over the world and she still gives sold-out shows for her fans. It was eleven years ago when she had her comeback in Hamburg and already six years have passed since she recorded together with the NDR Pops Orchestra the album "Back on Stage" release on Tropical Music.
Now, four years after the release of the album "Back On Stage" we are proud to announce the release of the new album "I'll See You In My Dreams". It was recorded during the two shows early in february 2008 in the St. Pauli Theatre in Hamburg and it presents the highlights of these two shows.

German info by Tropical Music:
Einige der Lieder werden ihre Fans sofort wiedererkennen – und sie werden sich wundern. Denn nach fast 40 Jahren klingen diese Lieder frischer als in den sechziger Jahren. Ohne großes Orchester, nur begleitet von Bass, Gitarre, Klavier und Geige singt Esther Ofarim Lieder aus ihrem reichen Repertoire. Das Spektrum reicht von Shakespeare bis zu Leonard Cohen, von Kurt Weill bis zu den Beatles. Der Titelsong ihres neuen Programmes "I'll See You In My Dreams" war in den 1920er Jahren über Wochen ein Nummer-Eins-Hit in den amerikanischen Charts, und wenn Esther Ofarim ihn singt, dann weiß man auch warum, denn sie singt das Stück mit großer Lebendigkeit und Frische begleitet vom Chorgesang ihrer Musiker. Ihre schauspielerischen Qualitäten kann man hautnah spüren, wenn sie den "Surabaya-Johnny" anfleht, und wie viele Versionen gibt es von "Yesterday" und "Hallelujah"? Unzählige hat man schon gehört. Aber Esther Ofarims Interpretation lässt einen doch wieder genau hinhören bei diesen altbekannten Stücken. Auch "Cinderella Rockefella", der Hit von 1968, darf dabei nicht fehlen. Schön, dass Esther Ofarim dieses Stück wieder aufgenommen hat.
Seit über 40 Jahren ist Esther Ofarim auf den Bühnen dieser Welt zu Hause, und noch immer füllt sie die Konzertsäle und begeistert ihr Publikum mit ihrer klaren und kräftigen Stimme. Anfang März diesen Jahres sang sie bei der Feierstunde zur "Woche der Brüderlichkeit" in Hamburg zwei ihrer bekannten Lieder. Elf Jahre ist es her, dass sie ihr Comeback mit einem Liederabend anlässlich des fünfzigsten Jahrestages der Gründung des Staates Israel in den Hamburger Kammerspielen feierte. Vor sechs Jahren entstanden die Aufnahmen mit dem NDR Pops Orchester, aus denen die bei Tropical Music erschienene CD "Back On Stage" zusammengestellt wurde.
Vier Jahre nach der Veröffentlichung des Albums "Back On Stage" erscheint mit "I'll See You In My Dreams" ein aktuelles Album mit neuen Aufnahmen von Esther Ofarim. Aufgenommen wurde das Album während der beiden Konzerte am 1. und 2. Februar 2009 im Hamburger St. Pauli Theater, das in der Presse gefeiert wurde: "Wir haben es nicht für möglich gehalten, aber Esther Ofarim wird immer besser" (Die Welt); "Am liebsten hätte man der Sängerin die ganze Nacht zugehört, so sehr donnerte nach drei Zugaben noch der Applaus" (Hamburger Morgenpost); "Die Diva des kultivierten Chansons" (Hamburger Abendblatt).
Das vorliegende Album dokumentiert die Glanzpunkte dieser beiden Konzertabende.
Buy this CD here / Kaufen Sie die CD hier!



www.esther-ofarim.de