Swanee listen to it (mp3)
(Music by George Gershwin, lyrics by Irving Caesar 1919)
(Esther performed it in "Ghetto" (by Joshua Sobol)
(directed by Peter Zadek, († July 30, 2009)) (Freie Volksbühne Berlin 1984)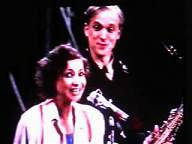 I've been away from you a long time.
I never thought I'd miss you so.
Somehow I feel, your love was real,
Near you I long to be.

The birds are singing, it is song time.
The banjo's strummin' soft and low.
I know that you yearn for me too,
Swanee you're calling me.

Swanee how I love ya, how I love ya
My dear old Swanee
I'd give the world to be
Among the folks in D-I-X-I even know my
Mammy's waitin' for me prayin' for me
Down by the Swanee
The folks up North will see me no more
When I go to the Swanee shore.

Swanee, Swanee I am coming back to Swanee.
Mammy, Mammy, I love the old folks at home.