October 28, 2007
Fürth, Stadttheater
Concert with Esther Ofarim

Esther performed in the Stadtheater, Fuerth (in Bavaria)
on October, 28th. Beginning: 19:30 h. Website

"Glanzvoll begann Esther ihre Konzerttour in Braunschweig
- glanzvoll ging sie in Fürth zu Ende"

read more in the forum!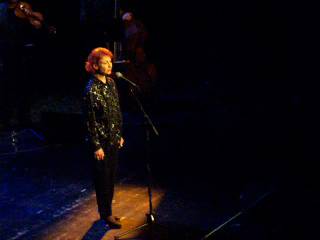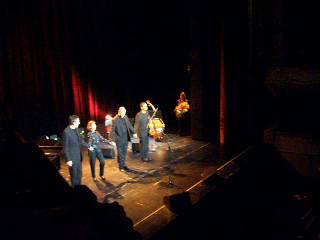 Read the press:
Fürther Nachrichten


A big Thanx to Uwe Asmus,


who provided these fotos


and a small video of Pavane!

Song list:

Every night
Dirty old town
Pavane watch small video!
Jerusalem
Layla layla
Besade patuach
September song
Ten li yad
Cancion de cuna
She's leaving home
 
Pause:
Midnight dream (instrumental)
Song sung by Yoni Rechter

I only have eyes
Over the rainbow
Shir eres / Dodo
Speak low
Adio Querida
Alabama song
Me emek ve'give'a
Bird on the wire
Mad about the boy

Encores / Zugaben:
Morning of my life
Gruß


www.esther-ofarim.de